Import Microsoft Outlook Contacts
To complete this procedure, you must have the Allow import privilege and Insert permission for Address Book entries and user-defined fields.
You can import Address Book entries into your Maximizer Address Book from your Microsoft Outlook Contacts. This feature allows you to quickly add your Microsoft Outlook Contacts to your Maximizer Address Book without having to enter them manually.
Name, address, and contact information fields from your Microsoft Outlook Contacts are automatically mapped to the corresponding fields in the imported Address Book entries. Microsoft Outlook Contacts without a Last Name are imported as Company entries, otherwise they are imported as Individual entries. Entries imported from Microsoft Outlook are not created as sales leads.
Select Import and click Microsoft Outlook Contacts from the pop-up window.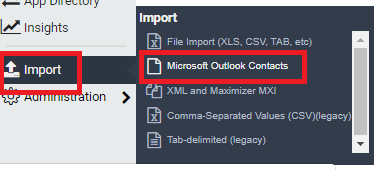 The Import Wizard - Select Import File dialog box opens.
Select Choose File, and choose the comma-separated values (.CSV) file that contains your exported contacts from Microsoft Outlook.
Please refer to your Microsoft Outlook documentation for instructions on how to export your contacts to a comma-separated values (.CSV) file.
Click Next.
The Import Wizard - Finish opens.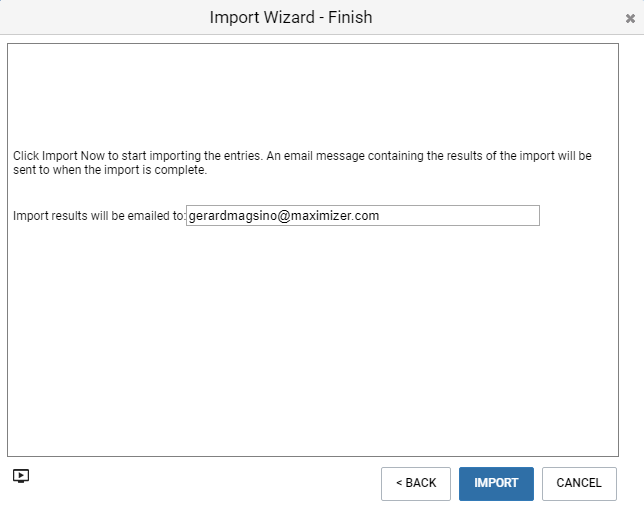 The Import results will be emailed to your email address. If you do not want to receive an email with the import results, leave the field blank.
Click Import Now.
The import is complete. If you entered a valid email address, the import results will be in your inbox.
During the import, a Favorite List is created containing the Address Book entries created or updated by the import. The name of the Favorite List is "CSV imported [date] [time]". You can retrieve this Favorite List to review the results of the import.
---
---