Add an Activity to an Automated Campaign
You can add as many activities as you want to a campaign. When you add a new activity, you choose the file containing the body of the message and you specify when the activity occurs during the campaign, as well as other details of the activity.
In the Campaigns page, click on the Campaign's name to open it.

Open the campaign and select the Campaign Plan tab.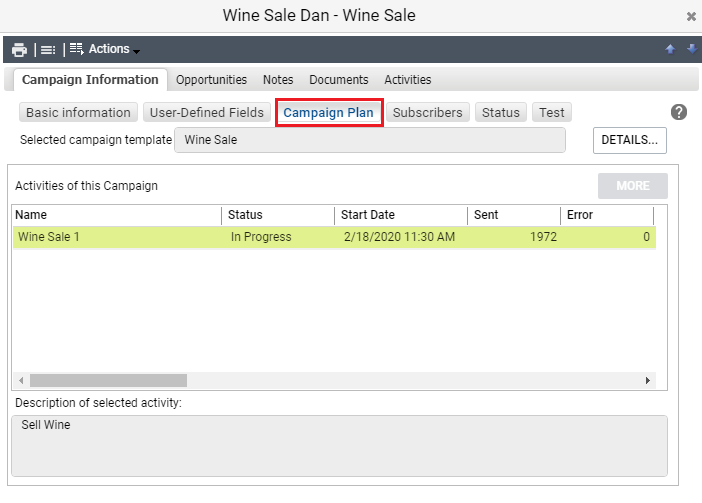 Click Edit.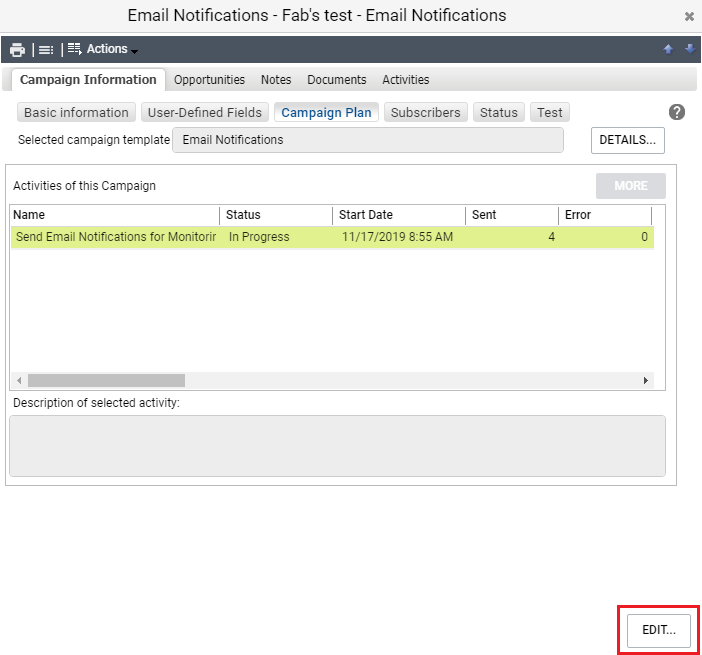 Click More and select Add Email.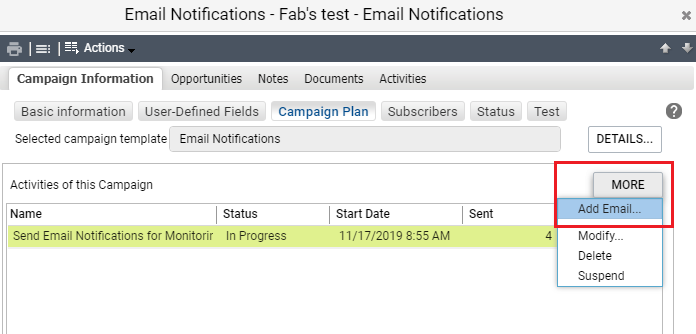 The Add Email Activity dialog box opens.
Enter the details of the activity.
Enter the Name and Description.
Enter the Email subject.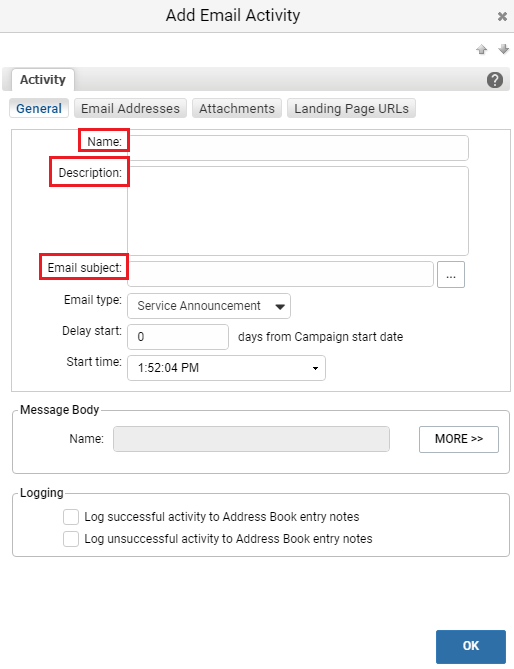 You can click the ellipsis button to insert a merge field in the email subject.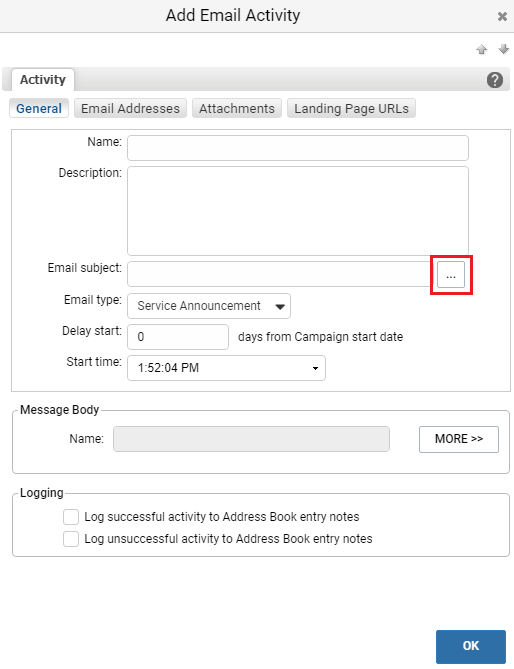 Enter the Delay start, which defines the number of days after the campaign is launched that the activity occurs.
Specify the Start time, which defines the time of day the activity occurs.
Under Message Body, click More > Select Existing Message to access the list of saved messages.
Select an existing message, and click OK to attach the message to the activity.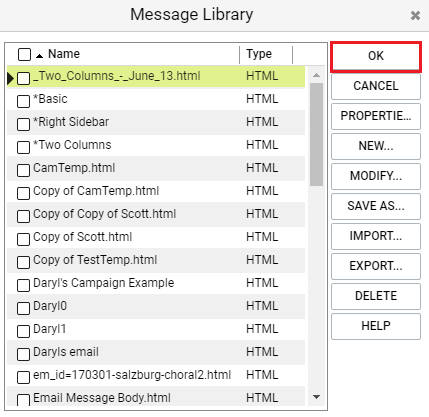 Choose your Logging options.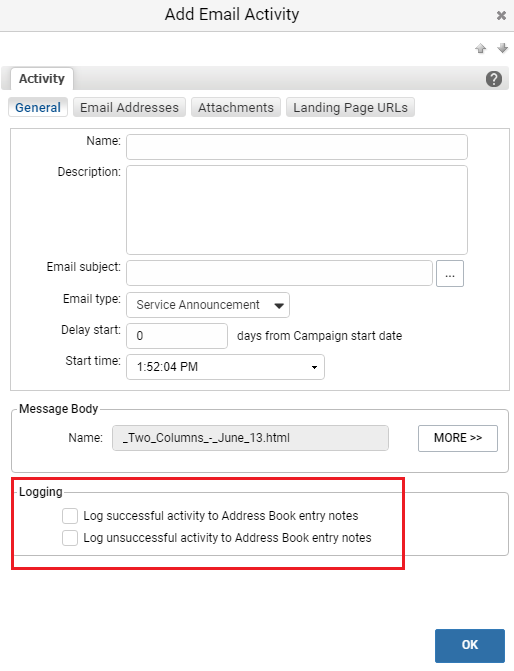 A note is created for the Address Book entries involved in the campaign if the campaign activity is successful or if the activity fails.
Select the Email Addresses tab, and specify the email addresses associated with the message.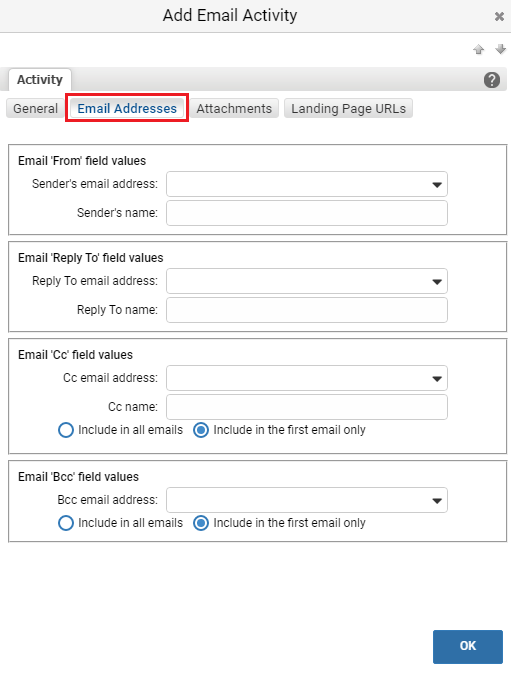 The name and email address of the From account are visible in the email message.

If you leave this field empty, the email message is sent from the current user.

The name and email address of the Reply To account are used when email recipients reply to the email message.

If you leave this field empty, replies are sent to the From address.

If you are using the hosted email server, you must select a user with a validated email address for the sender and reply to addresses.
In order to monitor email bounces and replies for campaigns, you must enter From and Reply To email addresses for the same accounts specified in the campaign monitoring settings in Administrator.
The Cc and Bcc fields define a carbon copy or blind carbon copy recipient. Use these options to send a copy of the email message to someone in your company, as well as to the targeted recipients.

Use the Include in all the emails or Include in the first email only options to specify that the Cc and Bcc recipients receive the message for each Address Book entry or for just the first Address Book entry in a batch.
Select the Attachments tab and click Add to add any attachments to the email message.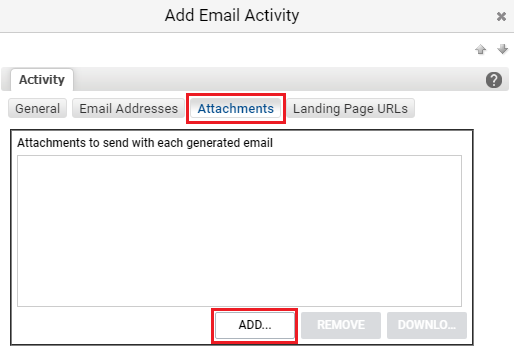 Select the Landing Page URLs tab, and specify up to five landing page URLs in the email message.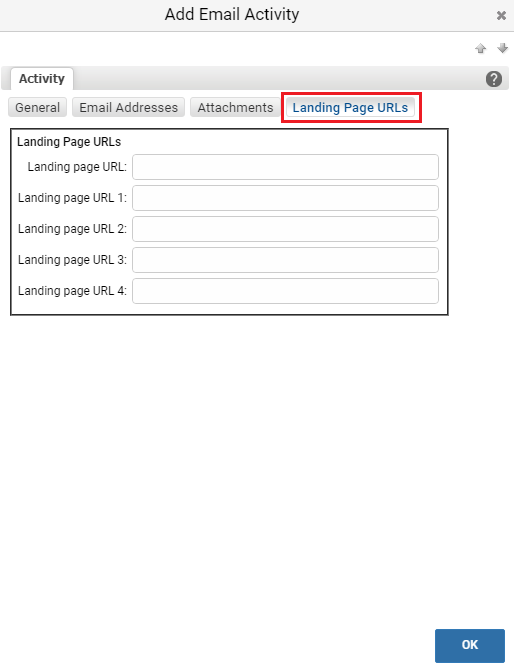 If you include a Campaign Redirect URL merge field in your email message template, customers are redirected to a landing page URL when they click on the merge field.
Click OK to finish adding the activity to the Automated Campaign.
---
---