Reassign Hotlist Tasks
You can reassign Hotlist tasks to different Maximizer users directly in the Hotlist page. You can reassign one Hotlist task, or you can select multiple tasks to assign all of them to the same user. When you reassign a task from one user to another, you can send an email notification to both users to notify them that the task has been reassigned.
Click on the Hotlist task to make it the current entry.

OR
Select multiple Hotlist tasks.
Click the checkbox to the left of entries.
To select all entries between two entries, select an entry and while holding down the Shift key, select another entry.
Select Edit > Reassign.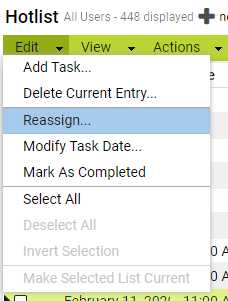 The Reassign Hotlist Tasks dialog box opens. Users are displayed by group.
Select a user.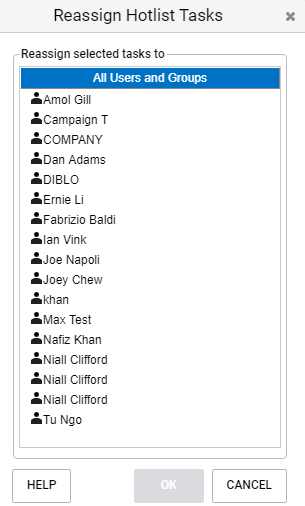 Users are grouped by the security groups, teams, departments, and divisions to which they belong if you have the "Display users by groups" option enabled in your preferences.
Click OK.
Depending on your Calendar/Hotlist preferences, you may be prompted to send an email message to the selected users.
If necessary, customize the email notification, and click Send.
---
---