Update a Document Template
This procedure is written for Microsoft Word 2007 or later. The steps are slightly different in earlier versions of Word.
To complete this procedure, Microsoft Word Integration must be installed.
Word integration is available only in Microsoft Internet Explorer. Ensure you open Word through Maximizer in an Internet Explorer Browser.

You can edit and update document templates in your Maximizer template library from Microsoft Word.
Open the document template you wish to edit and make the desired changes.
In the Maximizer tab in Word, click the bottom half of the Save to Maximizer button and select Update Existing Template from the drop-down list.

The Maximizer Document Template dialog box opens.
Select a the document template you wish to update from the list of available templates and click OK.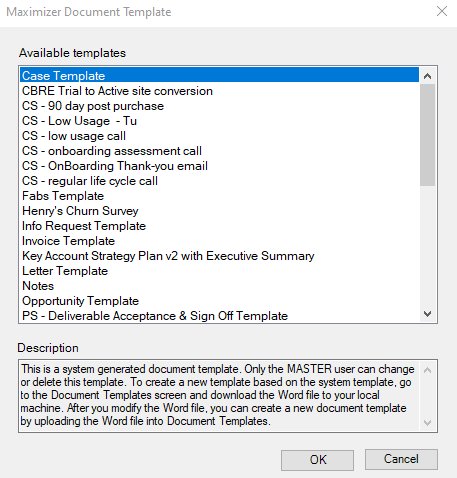 The document template is saved to your Maximizer template library.
---
---