Install the Microsoft Word Integration
Word integration is available only in Microsoft Internet Explorer.
You can install Microsoft Word integration directly from Maximizer CRM Live.
This setup involves downloading Active X controls, which may be disallowed on some networks.
In the left navigation pane, click Administration and select Desktop and Mobile Setup.

In the Microsoft Word Integration section, select View more information.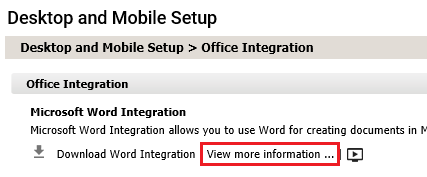 The system requirements and a description of the basic steps required to install the Microsoft Word Integration appear below the link.
Click Download Word Integration.
Click Download.
A window opens giving you the option to run or save the file.
Click Run and follow the steps outlined in the setup wizard to install the files.
---
---