Print a Microsoft Word Document
To complete this procedure, Microsoft Word Integration must be installed.
Word integration is available only in Microsoft Internet Explorer. Ensure you open Word through Maximizer in an Internet Explorer Browser.
When you use Microsoft Word with Maximizer, you can send a Word document to the printer, automatically merging the document with entries in Maximizer. When you send the document, you can choose to merge the document with the current entry or with all selected entries.
You can merge the document for a single Maximizer entry, or you can select multiple entries to print the document for all entries at the same time.
The document is automatically sent to the printer that is currently set up in Word.
This procedure is written for Microsoft Word 2007 or later. The steps are slightly different in earlier versions of Word.
Open the document in Word.

In Maximizer, click on the entry to make it the current entry.
– or –
In Maximizer, select multiple entries.
Click the checkbox to the left of entries.

To save a copy of the document to selected Maximizer entries, return to Word and check off Save Merged Document(s) in the Maximizer tab.

To print the document for the current entry only, in the Maximizer tab in Word, select Send to Printer.

– or –
To print the document for multiple selected entries, in the Maximizer tab in Word, select the bottom of the Send to Printer icon, and select the Print Selected Entries option.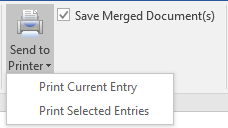 A dialog appears confirming that the document will be printed for the selected entries. Click Yes to continue.
The merged document is sent to the default printer currently set up in Word.
---
---