Deleting User profiles - Considerations and Cleanup
In general, we do not advise deleting users from Maximizer. Alternatively, we recommend disabling the user. This has 2 benefits:
It prevents the user from being active in the database while maintaining historical ownership of records and entries.
If required, it allows the Maximizer administrator an opportunity to reassign entries and records (eg. tasks, appointments, opportunities/accounts, leads, etc.) to active Maximizer users.
To prevent other active users from seeing the ID or name of the disabled user, log into the Web Administrator (in Maximizer, select Administration > Administrator). Change the Web Access setting of the user to Disabled and change the Security setting to Private.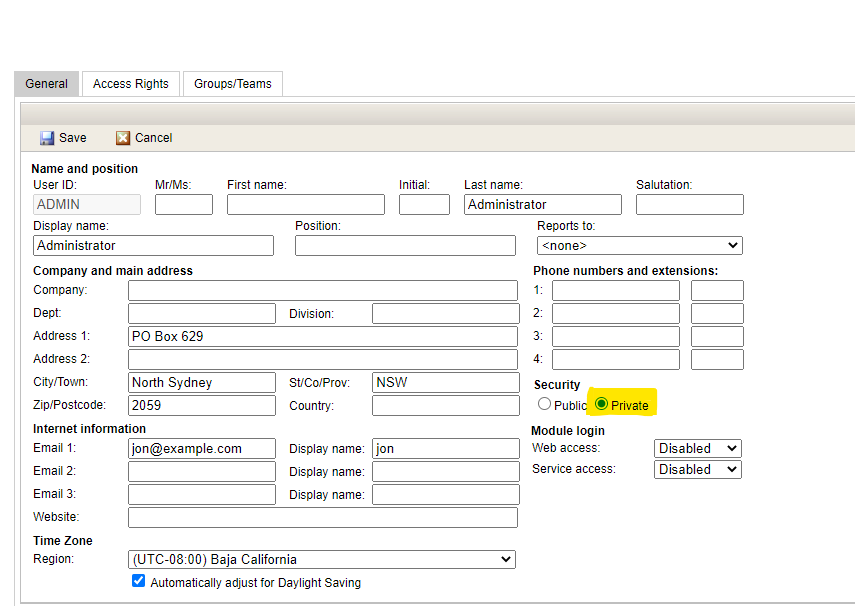 Even though the disabled users are no longer visible to others after this change, Maximizer administrators will still have visibility and access to these users.
If deleting the Maximizer user is your only option, there are 2 things to keep in mind:
Any record or entry (ie. notes, documents, database log entries, etc.) originally associated with the user will display "Deleted User" instead of the user's ID or name.
All appointments and hotlist tasks originally associated with the user will be deleted.
---
---