How to Add New Users for On-Premise Edition
While adding new users for OnPrem, there are some key requirements you would need to be successful: a) Access to the Administration Console b) PLN for the additional Licenses (which is given after purchase has been made)
After you install Maximizer or purchase additional licenses, you must install the Product License Numbers (PLN). The following procedure applies to all Maximizer CRM products.
If you install additional multi-user licenses after activating Maximizer, you must activate the licenses before using them. You must have a current maintenance account to activate your licenses.
Installing a Product License Number (PLN)
Run Administrator

Select Utilities > Install Multi-User License

Enter the PLN
Click Install License
Repeat Steps 3 and 4 to install any additional licenses
To activate the licenses, click Activate. And in the Activation dialog box, click Activate again.
Click Close
Administrator closes automatically. The next step is to apply the PLN(s) to the Address Books.
Applying a License
After you have installed a PLN, you must apply it to the Maximizer Address Book(s).
TO APPLY A PRODUCT LICENSE NUMBER (PLN)
After installing a PLN, start Administrator.
Open and close each Address Book that you are applying licenses to. The license has now been applied to the Address Book(s)
Adding a User to an Address Book
Select File > Manage Users. The Manage Users dialog box opens.
Click Add. The Copy Selected User's Settings dialog box opens.
Click Yes to copy the settings from the selected user, or No to start with the default settings.
The Add User dialog box opens.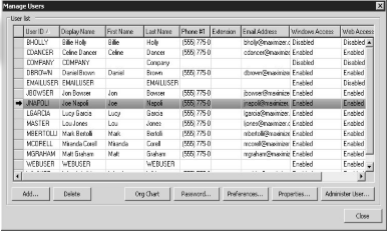 In the General tab, fill in the basic information for this user.
In the User ID field, enter unique identification for the user. The user must specify the User ID to log in to Maximizer.
The Display name field fills in automatically with the user's first and last names. You can change the display name.
The Dept and Division fields affect where the user is displayed in user-selection lists (for example, in the Add Appointment dialog box).
In the Email field, enter an email address for the user. The user must have an email address specified to send email from Maximizer.
Under Module login, ensure Enabled is selected next to Windows Access or Web access. Users enabled for Web Access can log in to Maximizer Web Access and Mobile Access. You must have an available user license to enable the user.
Viewing Applied and In-Use Licenses
In Administrator, select Reports > Current Users.
---
---