Insights - Categories, Values & Break By (Data Panel)
Data panel
The Data Panel is used for selecting the values that you want to appear in the widget and those needed for grouping data. The options differ depending on the chart type.
As good practice, have a widget draft handy before you start building it in Widget Designer. It will help you understand which field goes to Categories and which one goes to Values.
Categories - a field you need for grouping or categorizing your data. It's also called:
X-axis for a Line Chart
Rows for Pivots
Example of the most popular fields: Status, Opportunity Leader, Close Date (month, quarter, year).
Values - a field that is needed for aggregations.
Example of the most popular fields: Revenue, Identification (when you need to count records, Identification is the most reliable field)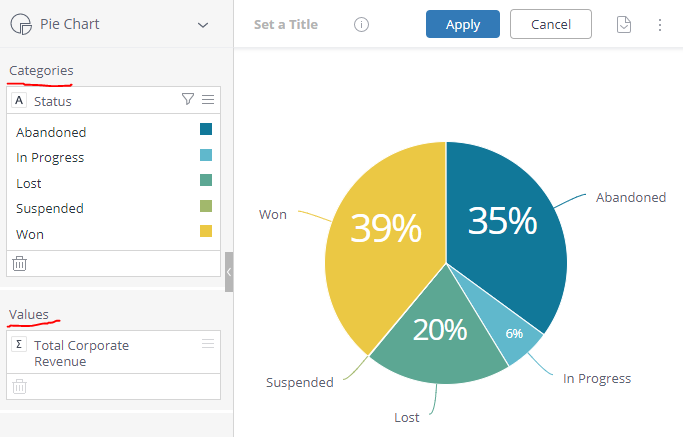 Break By - Some charts (bar, column charts) have an additional dimension, Break By. This dimension is used primarily for stacked charts. In the example below, I break by Account Managers to see who manages customers in different countries.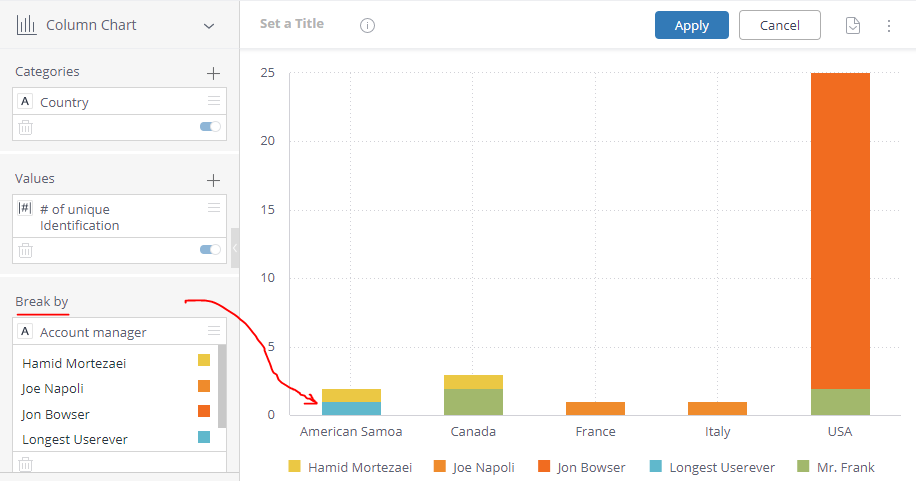 See the summary for different chart types below:
| | | | |
| --- | --- | --- | --- |
| Chart Type | Categories | Values | Break By |
| Indicator | - | Yes, Primary & Secondary | - |
| Pie Chart | Yes | Yes | - |
| Column Chart | Yes, multiple | Yes, multiple | Yes |
| Bar Chart | Yes | Yes | Yes |
| Line Chart | Yes, X-axis, multiple | Yes, multiple | Yes |
| Area Chart | Yes, X-axis, multiple | Yes, multiple | Yes |
| Area Map | Yes, Country | Yes, Color | - |
| Polar Chart | Yes | Yes | Yes |
| Scatter Chart | Yes, X-axis | Yes, Y-axis | Yes |
| Scatter Map | Yes | Yes | - |
| Pivot | Yes | Yes | Yes, called columns |
| Sunburst | Yes | Yes | - |
| Treemap | Yes | Yes | - |
| Calendar Heatmap | Yes | Yes | - |
| Table | Yes | Yes | - |
| Box & Whisker Plot | Yes | Yes | - |
Fine-tuning a Widget
To learn more about adding data and fine-tuning the design of a specific widget, click on a widget from the list below:
---
---