Save a Microsoft Word Document to a Maximizer Entry
This procedure is written for Microsoft Word 2007 or later. The steps are slightly different in earlier versions of Word.
To complete this procedure, Microsoft Word Integration must be installed.
Word integration is available only in Microsoft Internet Explorer. Ensure you open Word through Maximizer in an Internet Explorer Browser.
When you use Microsoft Word with Maximizer, you can save a Microsoft Word document to the current entry in Maximizer or to multiple selected entries. The document is saved to the Documents tab of the entries.
You can save Microsoft Word documents to Address Book entries, Customer Service cases, and Opportunity entries. If the document contains any linked merge fields, the merge fields are replaced with values for the current Maximizer user, Address Book entry, Opportunity, or Customer Service case when the document is saved.
Open the document in Word.
In Maximizer, click on the entry to make it the current entry.
– or –
In Maximizer, select multiple entries.
Click the checkbox to the left of entries.

In the Maximizer tab in Word, select Save to Maximizer and click Save to Maximizer Entry from the drop-down list.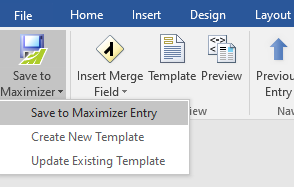 The Save Document to Maximizer Entry dialog appears.
In the Save document to group, select whether you want to save the document to the Current entry only or to all Selected entries.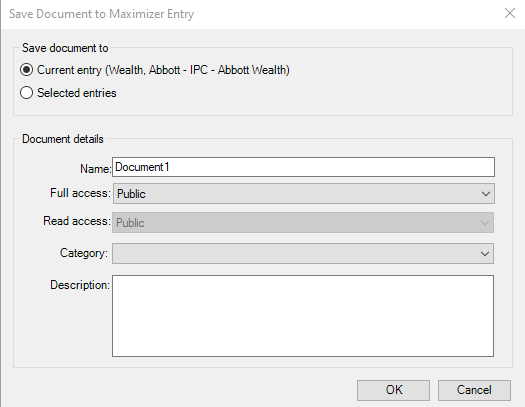 Enter the Name, Full access, Read access, Category and Description, then click OK.
The merged document is saved to the current or selected Maximizer entries.
---
---