Using the Word integration with Microsoft Edge
The Maximizer CRM Word integration currently requires Internet Explorer.
If you cannot use Internet Explorer, you can try using the Internet Explorer compatibility mode available in the new Microsoft Edge browser.
The following method is experimental and not officially supported. Your mileage may vary. We still recommend using Internet Explorer for the Word integration.
Overview
Install the new Microsoft Edge
Enable Internet Explorer compatibility mode in Edge
Login to Maximizer using Internet Explorer mode
Use the Word integration as normal
Install Microsoft Edge
If you do not already have the new Microsoft Edge installed, navigate to the Microsoft installation page and follow the instructions to download and install.
Edge version 77 or higher is required for Internet Explorer compatibility mode.
Enable compatibility mode in Edge
Internet Explorer compatibility mode will allow Edge to work with functions that previously required Internet Explorer.
Note: If your device is issued by your company, it's likely these settings will be unavailable and your IT department will need to enable Internet Explorer Compatibility using group policy. Group Policy is a feature of the Microsoft Windows NT family of operating systems that controls the working environment of user accounts and computer accounts. Group Policy provides centralized management and configuration of operating systems, applications, and users' settings in an Active Directory environment. Please consult with your IT department to have them enable IE Mode.
If your device is not managed by group policy, follow these steps to enable Internet Explorer compatibility mode:
Open the Edge menu and select Settings
Click Default Browser
Toggle on the switch to "Allow sites to be reloaded in Internet Explorer mode".
Press the button that appears to restart the browser.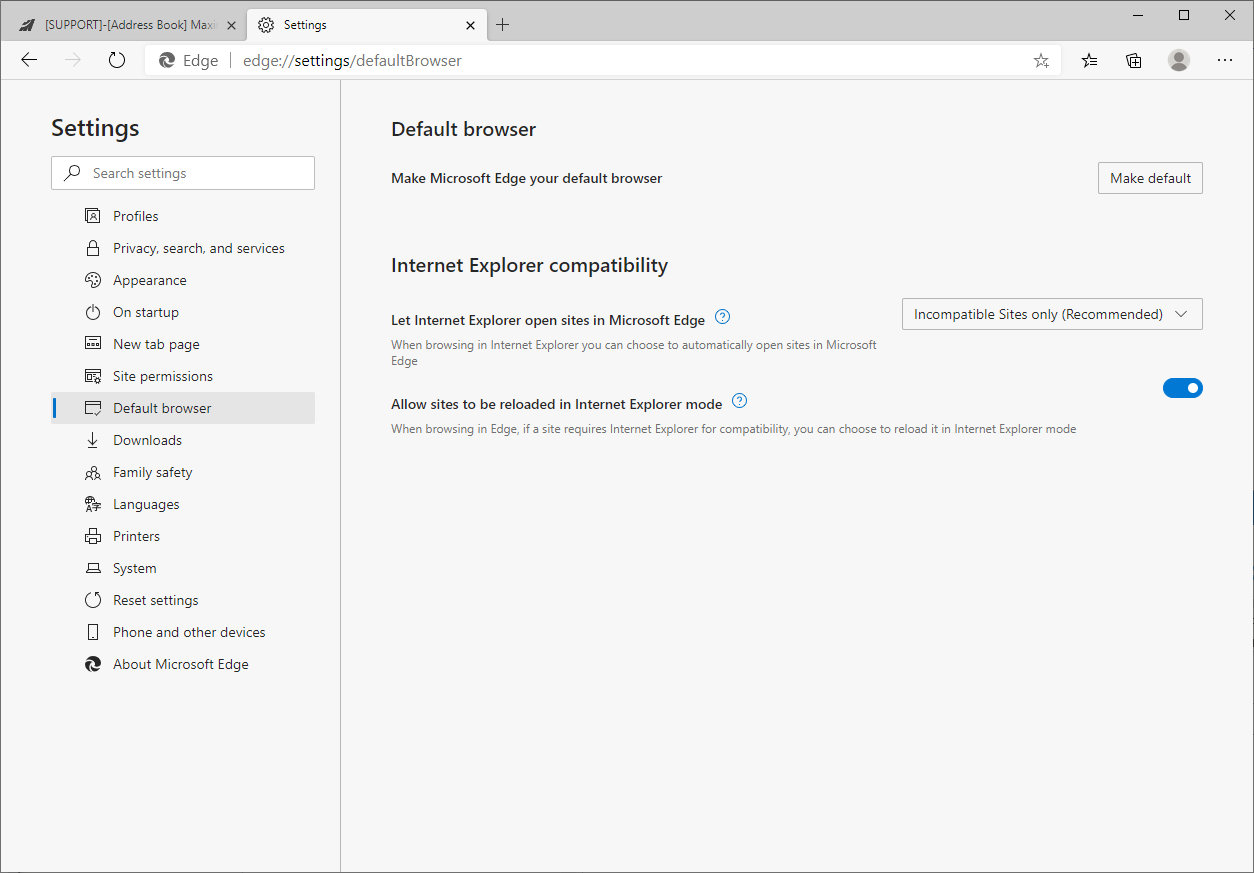 Login to Maximizer using Internet Explorer mode
Use the customer URL you were provided with your Maximizer CRM Live account. It should look something like the following:
https://caw.maximizercrmlive.com/YOUR_DATABASE_HERE
On your login page, open the menu in Edge and select More tools > Reload in Internet Explorer mode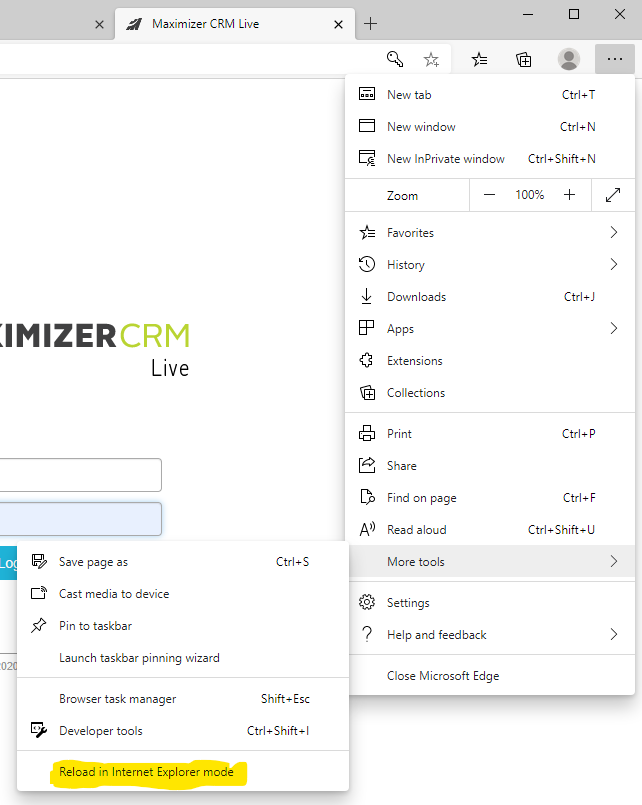 Your login page will reload and show a banner with the text: "You've entered Internet Explorer mode."
As long as that banner is visible, the current window of the Edge browser is effectively an Internet Explorer session.
If the banner disappears, or if you click the Leave button, your browser window will return to an Edge session and no longer work with the Word integration.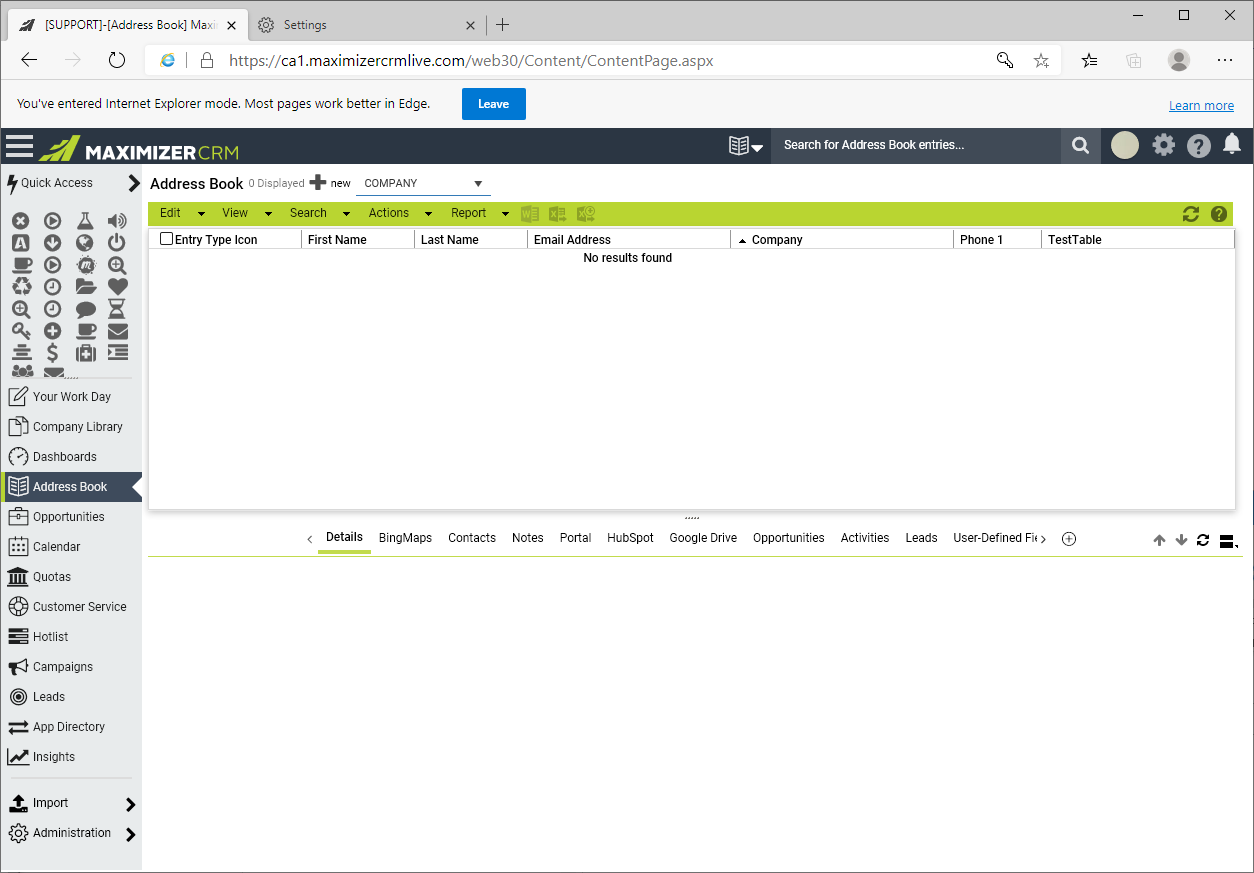 Using the Word integration with Edge
Using the Word integration with Edge is the same as with Internet Explorer. You will need to keep the Maximizer CRM tab open in Edge when using the Word integration.
If the browser asks to install an Active X plugin for Maximizer CRM, you will need to click Allow. This is what allows the Word integration to interface with Maximizer through the browser.
If you already have the Word integration installed, you will notice the icon in the green menu bar is available to Open MS Word.

If you do not already have the Word integration installed, you can use Edge to download the integration by following the same instructions as Internet Explorer here: Install the Microsoft Word Integration
---
---