Set-up an Email AutoSignature
You can set up an email AutoSignature in the email preferences. The AutoSignature is added to the end of outgoing email messages sent from Maximizer. You can choose whether or not to include the AutoSignature when you reply to and forward email messages.
In the top-right corner of the page, select the Personal Preferences icon.
Click Other Preferences.

Select the Email tab and click AutoSignature.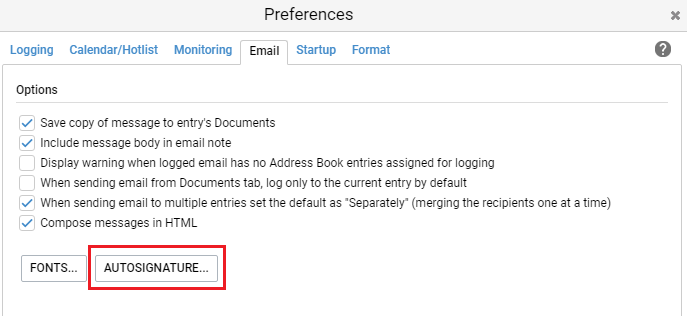 Enter the content of the email signature.
Please take note, the Maximizer Auto Signature is limited to 5000 Characters.

Use the options in the toolbar to add formatting, images, and hyperlinks to the signature.
Under Options, select Add AutoSignature to the end of outgoing messages.

To exclude the signature when you forward or reply to email messages, select Suppress AutoSignature when forwarding and replying.
Click OK to save the AutoSignature, and click OK again to save the changes to the preferences.
---
---