Print a Column Report
Column reports display information from the current column setup for entries in the current list. You can choose to include information for only the current entry, for selected entries, or for all entries in the list. Entries are displayed in the order that they appear on the screen using the colors in the current coloring rule.
To print background colors from the coloring rule, you may need to enable background colors in your browser's print settings.
You can print column reports from the Address Book, Opportunities, Campaigns, Customer Service, Hotlist, and Knowledge Base pages, as well as from the Notes, Documents, User-Defined Fields, and Activities tabs in open entries.
From a main page, select a column setup and apply a coloring rule.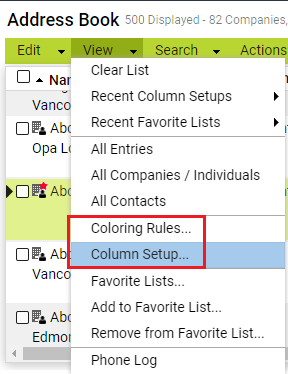 – or –
Open an entry and select the Notes, Documents, User-Defined Fields, or Activities tab.

Click on the single entry to include in the report to make it the current entry.
– or –
Make a list of entries to include in the report.
– or –
Select the entries to include in the report.
Click the checkbox to the left of entries.
To select all entries between two entries, select an entry and, while holding down the Shift key, select another entry.

Select Report > Column Report.

– or –
In an open entry, select the Print icon.

The Print Column Report dialog box opens.
Specify the report details.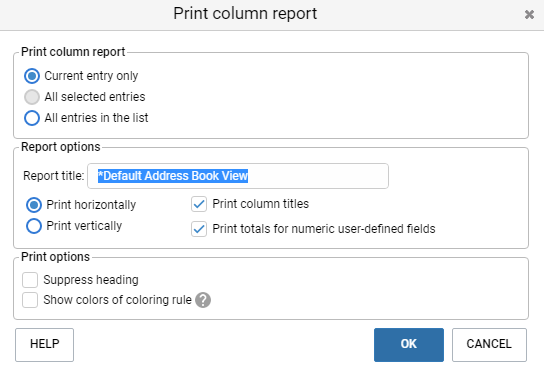 • Under Print Column Report, specify how you want to use the current list.
• Under Report Options and Print Options, specify the title and format of the report.
Click OK.
A new browser opens displaying the content of the report.

Click Print.
Specify the printing properties and finish printing the report in your browser.
---
---