Send an Email Message to Address Book Entries from Microsoft Outlook
You can use Microsoft Outlook to send email messages to Maximizer Address Book entries, even if the Address Book entries do not have related contact records in Outlook.
This method may not be available if you are using Word as your email editor. To determine if Word is your email editor, select Tools > Options from the menu in Outlook, and click the Mail Format tab. If the "Use Microsoft Office Word to edit e-mail messages" checkbox is selected, the Maximizer Addresses button may not be available in the new email message dialog box.
When sending an email you can select an optional email type. If the selected email type requires consent, the email will not be sent to any recipients who have not opted-in to the selected email type. If no email type is selected, the email will be sent without checking the email profiles of the recipients.
If no email type is configured in Maximizer then the default value will be blank for email type. You can manage the email profile and opt-in information for your Address Book entries in the Details tab of the following pane in the Address Book page.
In Outlook, open a new email message.

In the Maximizer tab, click Add Maximizer Addresses.
The Maximizer Addresses dialog box opens.
Select Last Name or Company and enter the full or partial last name or company name to search for.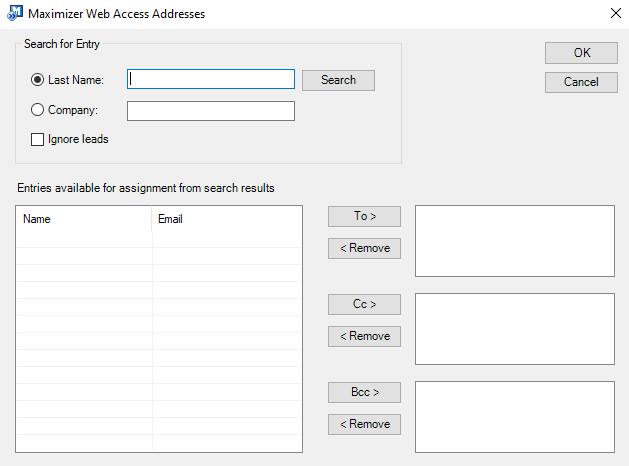 Click Search.
The names and primary email addresses of the matching Address Book entries appear in the "Entries available for assignment from search results" list.
Select the Address Book entry from the list, and click the To, Cc, or Bcc button.
You can select multiple entries by holding down the Ctrl key or Shift key.
From the Email type drop-down list, select an email type.
Click OK.
---
---