Import from a MXI or XML File
To complete this procedure, you must have the Allow import privilege and the required permissions for inserting and modifying entries included in the import.
Use this procedure to import Address Book entries, Customer Service cases, or Knowledge Base articles into Maximizer from a Maximizer XML Interface (.MXI or .XML) file.
In the left navigation pane, click Import, and select XML and Maximizer MXI.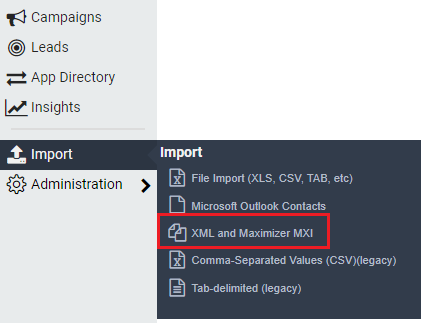 The Import dialog box opens.
Click Choose File, and select the MXI or XML file.
In the Lead Handling area, choose if you would like to import entries as leads or not.
Optionally, edit the name of the Favorite List created on import.
If you do not want to create a Favorite List, delete the text in the Name field.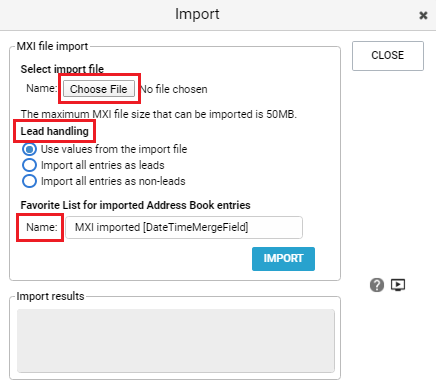 Click Import.
If you do not have insert or modify permissions, the import results will list the entries as "Failed."
When the import is finished, the Import results section updates to show the number of entries that were successfully inserted or modified and the number of entries that failed to be imported.
---
---