Create a Favorite List
Favorite Lists keep track of lists of Address Book entries, Opportunities, and Customer Service cases.
You can quickly create a new Favorite List from a list of entries in the Address Book, Opportunities, or Customer Service page. While creating the Favorite List, you can select a column setup to display automatically when the Favorite List is retrieved.
Create a list of the entries you want saved in the Favorite List.
– or –
From the current list, select the entries to save in the Favorite List.
Click the checkbox to the left of entries.
Select View > Favorite Lists.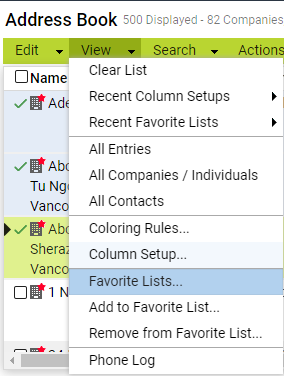 The Favorite Lists dialog box opens displaying all existing Favorite Lists.
Click Add.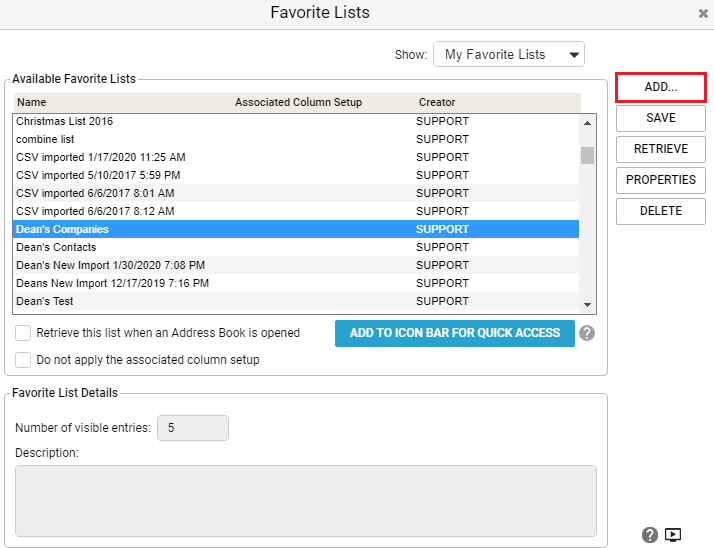 The Add Favorite List dialog box opens.
Specify the properties of the Favorite List.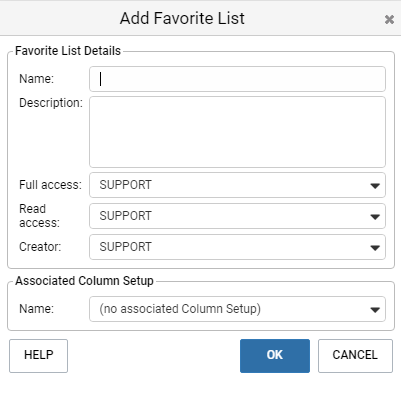 In the Full Access and Read Access fields, select a Maximizer user or security group with access to the Favorite List.
If you select Public, all users can modify or retrieve the Favorite List. If you select a group or user, only members of that group or that particular user can perform these actions.
In the Associated Column Setup area, select an existing column setup to display when the Favorite List is retrieved.
To select a column setup created by another user, you may first need to select Show All Column Setups at the top of the drop-down list.
Click OK.
---
---