Select a Microsoft Outlook Address List for Integration
Outlook integration with Maximizer only works with address lists in the Outlook Address Book (such as Contacts), and only with one address list at a time. It does not work with the global address list or other address lists.
If Outlook is set to use the global address list or another address list, which might be the case if your organization uses Microsoft Exchange, you will see an error message when you try to save an Outlook contact to Maximizer. If you see such an error message, use the procedure below to select an Outlook address list.
This procedure is written for Microsoft Outlook 2010. The steps may differ slightly in earlier versions of Outlook.
In Outlook, on the Home tab, select Address Book from the Find group.

The Address Book dialog box opens.
Select Tools > Options.

Open the Show this address list first drop-down list, and select one of the items under Outlook Address Book.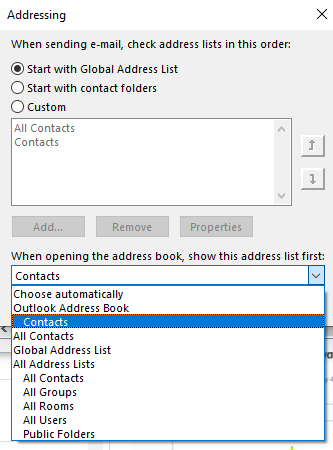 Typically, there is only one item in this list, called Contacts. In that case, select Contacts.
Click OK then close the dialog box in Outlook.
---
---